Any local in Columbia has seen a Palmetto bowtie. It's navy (or garnet and black) with the palmetto/crescent all over it: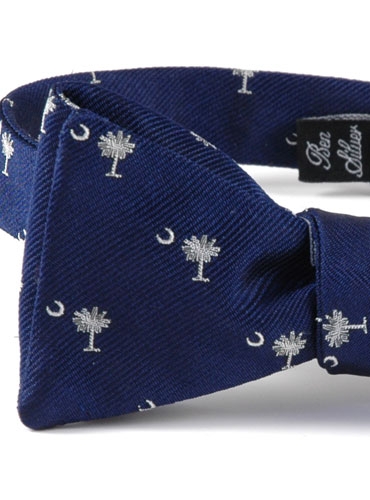 Just on Sunday though, I saw another flag bowtie for the OTHER state that has a special place in my heart. Good ole' Mary-land. Our flag is far more geometric than SC's, and if you aren't familiar with it, it looks like this:
I was lucky enough to stumble upon a friend's photo and her dad was wearing a Maryland flag bowtie. Naturally I popped onto google to do some investigating and found that a local herbadashery in Annapolis sells them!
Johnson's
is a famous menswear store in Annapolis and has the best sign out front chronicling the change of military uniforms over the years. It is so cute and has little painted wooden figures in the different styles. They've been in Annapolis since 1926 and began as the Naval Academy's uniform suppliers. They still provide uniforms however specialize in civilian attire now.
I love the idea of state bowties and all the pride that goes along with them!! So cute!
xxKatie