As I've declared before, I have sworn off tanning in a tanning bed for the rest of my life! I said in my last post that I had a few scary moles removed last summer, so GONE are the days of me in a tanning bed. I was lucky that they were all benign, but I have no interest in trying to create more of those scary moles.
As a result of no tanning bed, I have looked into other alternative forms of tanning for those days when you need a little extra color!
I'm still hesitant to get a spray tan, but I came VERY close this week. Once I get brave enough to get one, I'll be sure give y'all the details.
Recently, one of my roommates encouraged me to try one of her tan wipes: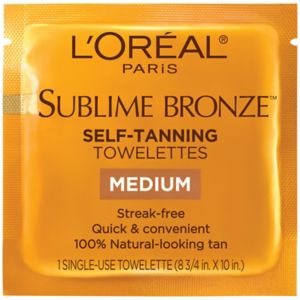 L'Oreal Sublime Bronze Towelettes
There's only one (at least in my shopping experience) color available: "Medium Natural Tan" and it worked GREAT for my skin. I tend to look orange with Jergens lotion, and had great experience with Tan Towel lotion when I had time to build the lotion, but these towelettes are ideal for when you only have 1 overnight to develop color. I immediately saw color when I woke up the next day.
It wasn't orange, and I liked the color a lot. I was impressed with the lack of odor that's usually present with self tanners, and this one advertises a "new fresh scent" that's extremely pleasant. I only used it on my legs (hence the "down" part of "Sunny Side...Down"), and there was still plenty of product that I could have used on the rest of my self.
The product runs from $7-9 and I found my box at CVS. Right after using my roommate's towel, I immediately ran out the next day and bought my own box. I will continue to use these towels to maintain the color I have now SAFELY.
I am excited to have discovered this product and I couldn't wait to share it with y'all! It's a great alternative to tanning in a bed!
xxKatie