Hey everyone, my apologies for not being a good blogger recently. I've been working on a campaign for a very good friend of mine who is running for the student body president! If any of you Twitter, you'll know my twitters are all about helping out this friend of mine! I'm the manager of his schedule so I have been emailing and contacting 24/7 (literally). I get back to my dorm and fall asleep rather quickly these days, which isn't behavior conducive to blogging! My dad is visiting me too this weekend which I am SO HAPPY about! The last time he was here was for MOVE-IN! Tonight he took me and 3 of my favorite people here at school out to dinner which was a great time! He finally got to meet all the people I talk about and my fabulous roommate for next year (oh hey Megan!)!! We all had a great time goofing off and eating more pizza than I'd like to think about!
But, recently however, I've ordered a few things from Old Navy that look like they could be from J. Crew which I was thrilled about! I'm really beginning to think that they use the same color palates or very similar ones and have very similar--but much more inexpensive--designs! I got a gift card to Banana Republic which can be redeemed at any of the 5 stores in the Gap/Old Navy/Banana Republic group for Christmas so I found some items that I couldn't pass up!! Here are a few of the things I've purchased for my spring wardrobe:
This color is so very J. Crew! With all their neutral colors, I couldn't help but snag one for myself!
I feel like this poppy color is very Crew too! They always have a vibrant orange, especially for spring. I also love the ruffle detail along the collar. I have some great 5'' chino shorts that this sweater will be perfect with! I also have this in the "Cream of Artichoke" color, a super pale green that will look great too!
I love this sweater! Of all of the ones posted here, this one is great! You have to touch it though to get the full package. Aside from my cashmere argyle sweater, hands down this is the softest sweater that I own! Not to mention, I'm ecstatic that the Gap/Old Navy/Banana Republic online shopping has a "TALL" option, because the cuts are great for me. The shoulders are wider, the arm holes are lower and the sleeves are longer. The sleeve problem is the worst problem I seem to face when trying to buy sweaters and cardi's because I end up having to buy a large or XL just so the arms are long enough!
I also grabbed two shirts from Gap. I rarely shop at Gap because I think their prices are too high for the quality sometimes (I think in the recent years their quality has gone down from what it used to be). I also have a very hard time finding my size in the store in my local mall at home, but I've been searching for a nice ruffled tank. I think they look SO pretty layered with sweaters. I found a great one at Gap.com and I found an online coupon code that got me 20% off full priced items online at Gap, so I decided to get this tank in the Oak color and in white: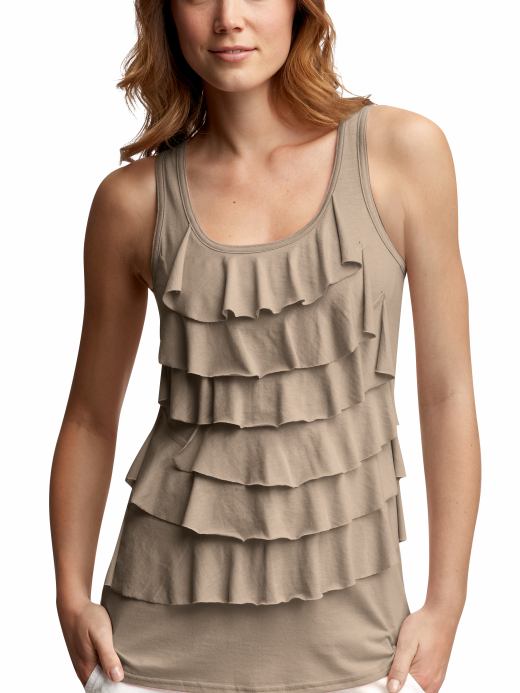 It was just what I was looking for, not to mention the length is SO perfect for me. A medium tall is great for a girl with my build!! I am so excited to bring this stuff with me for spring break...as far away as that is. It is fun though to think about what I can wear all these things with!! I hope that you are all dreaming of spring!
I promise that I'll be back and commenting away as soon as I find the time!!
xxKatie