Two days ago I was called by a friend of mine (who will be living 2 houses down from us next year) about a clothing crisis: "Can you wear black pants with a pinstripe blazer?" So it got me thinking about a "segment" I can do for all the boy readers that I might have (max = 3) and what they need to know about looking nice and
preppy
(dare I say it about them) well dressed.
I have to admit it. I have an affinity for a boy in a bow tie. I think boys have this weird stigma that they associate with bow ties and none of them ever want to wear one! I absolutely love them (with the exception of a few boys--really just one who's running against a friend of mine in the college elections, but I digress.) I have a few friends who detest a bow tie, but coming from Annapolis, it's just part of the culture. My junior year a guy friend of mine asked me if I would help him figure out what to wear to prom (he was taking a girlfriend of mine, Lizzie) and I was so excited to help him. He explained his choices on a bus ride to a lacrosse game and we settled on a great red Vineyard Vines print that had crabs and some polka dots with the matching cummerbund. He looked great and I think guys really underestimate bow ties! Now that it's spring, I'm hoping to catch a few more guys in a good bow tie. Here are a few of my favorites:
King Crab (I LOVE the crowns) from Vineyard Vines
Stars & Stripes from Vineyard Vines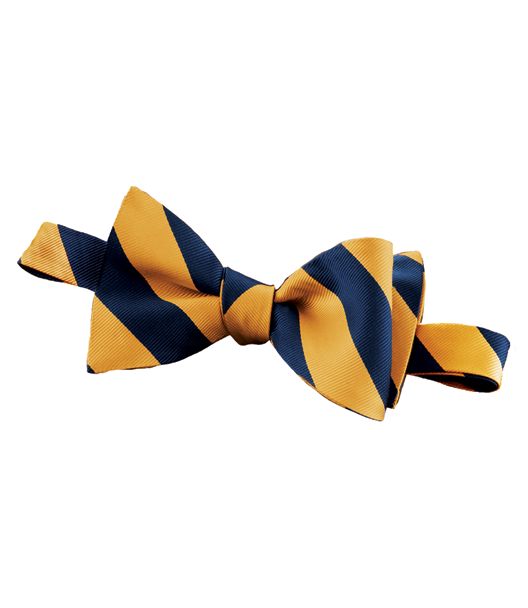 Regimental Guard Stripe from Joseph A. Bank Clothiers (My dad shops here periodically and I love to go! They have tons of ties and bow ties that I love browsing!!)
Lilly Pulitzer Printed Bow Tie (how can you not love pink and green seahorses!? If I had a prom date my junior year, this would have been perfect with my LP Jillie Dress circa Resort 2007)
These bow ties are made by a local designer in Columbia, SC called
LaRoque
. She makes all kinds of great custom dress--so custom that no one else will ever have the same combination of prints and dress style as someone else. Getting a dress from there is on my list of things to do before I graduate. This photo is from her
facebook
. I'm sure I could get a perfect length dress for my 6'1'' body!
I think the moral of my story is that a bow tie is just SO hard to resist! This makes me feel SO spring-y! If any of my readers are boys remember this!! Girls do love the bow tie! (Now madras anything and a bow tie is downright dangerous for this girl...)
xxKatie