So I have to giggle a little as I write this post because it is a
little
silly, but I've come across
these
before and have wanted to post about them! Plus we were talking about boxers today since my sister is still at Navy working and so the topic was on my mind (I felt the need for everyone to understand why I'm writing about a pretty silly topic!)! There are so many options for undergarments for girls, but for guys, you've only got a few. And I've found the best! Preppy boxers seem like an easy choice if I was boy! Here are my top picks (if I were a boy...I mean, these are the one's I'd pick!):
P.S.: I'm only going to use the print photos, the rest are a bit, um, risque for a blog (again, giggling!)
How cute are these
Southern Tide Skipjack
ones?! The link shows the print a lot better, but it just wasn't a good "feature photo" to have as the first picture. With a fun stripe, I guess you couldn't wear them under white shorts, but I don't think any guy really owns white shorts...just a guess. If you're a guy and you do have them, you'd impress me, but I don't think they're all that common.
I love the blue combination with the ST fish and the background! So summery!
I'm loving the traditional VV whale ones too! (I even have a tote to match these ones...haha!). These ones are a bit more toned-down than the stripes, but very cute. I've seen these boxers sold in a navy store by us with nautical flags on them and they were super cute too!
These ones are VV too with little bonefish outlines on them! I really like the pink-on-pink combo here!
I've posted about Lilly boxers a few times as well, but I can't get enough of them. The print on the far right (the very bottom print) is called Animal Crackers and I have the matching PJ set to that pair! These boxers are actually half price right now at the Sale Shack!
I had to sneak a girly photo in with all these boxers! It is way too hot out for these pj's, but the flannel is very cozy in the winter when all you want is to be bundled up.
At Brooks Brothers, you can find pairs and if you order them online, believe it or not you can even get them monogrammed: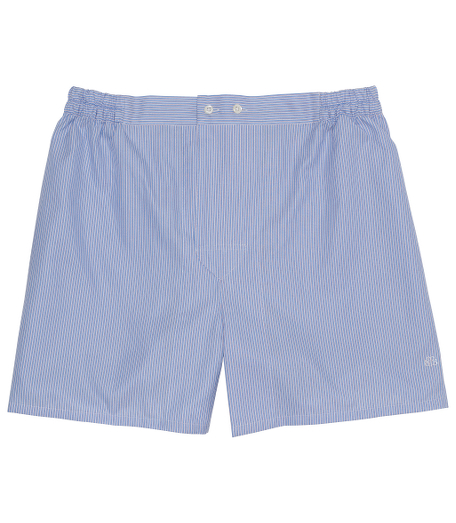 That would make a very fun gift (for anyone)!
I don't even think that boxers just have to be for boys either! I know plenty of girls who find cute pairs of boy boxers and use them to sleep/lounge in.
xxKatie