Step onto any college campus
ANYWHERE
and I can guarantee you'll see at least 75% of the female population wearing Nike's Tempo Running Shorts. Some are wild looking while others are toned-down.
At any given time while I'm on campus, I can look around and easily spot 10 girls wearing these shorts. Some wear them with Jacks and some wear them with running shoes. I am going to guess that maybe a small fraction of these girls are actually working out. Just yesterday, I was driving around an area behind our campus called Five Points where there's a big nightlife scene and some shopping, and saw a group of 7 girls, yes 7, and each and every one of them was wearing a pair of these running shorts.
As all of you know, I will rarely, if ever, wear shorts and a t-shirt to class. I even wrote a persuasive argument in my speech class speaking about why students should wear outifts and not just workout clothes to class. I will confess to even owning a pair of these shorts:
I have this (grainy) pair myself. Just about the only times I wear them are Zumba class, cleaning our house, or to sleep in! They are very comfortable, but I would never wear these shorts five times a week like I'm sure some girls do. I'm sure some of my dislike of these shorts stems from running cross country. We were forced to wear polyester running shorts with the awkward basket inside for every meet we had. I also think that these shorts look like old school basketball player shorts: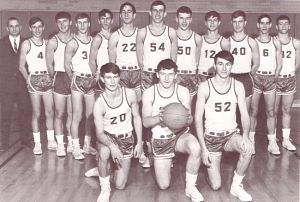 Photo circa 1966
Do any of my fellow college bloggers see the same thing on their campus? I feel like you must!!
xxKatie