MY PARENTS GET TO SOUTH CAROLINA TODAY!!!!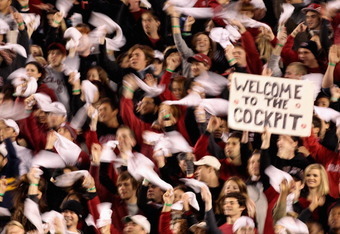 I have to point out the irony of the facebook event created for the USC vs. Navy game...Navy...Cockpit...not as funny of a joke!!!
Anyway, my smack-talking parents get into town today! After the USC/UGA game my dad sent me a text, "Congrats on the win. 2-1 after next week," and then my mom sent a package full of Navy swag! I cannot wait to see my parents around 6:00-6:30 today! All of my friends know how excited I am to see them and most of my friends have gotten to meet my parents!
Of all the Navy/USC debate points and smack-talking that's been going on, I do have to admit this is my favorite tidbit I've seen so far:
Unfortunately, my sister won't be making it down for the game! I miss her oh so much but she will be visiting when the Gamecocks take on Auburn in about 2 weeks.
I am so excited to see my Momma and Daddyo and cheer on the Gamecocks! We will be QUITE the house divided!!
xxKatie