QUICK: Name where that quote is from!
If you said "How I Met Your Mother" then you were correct!
On a more serious note, I went suit shopping right around this time last year after going through some mock interviews and wearing a dress instead of a suit. Realizing my mistake, I knew I had to change my choice and go big and buy a big girl suit. After doing some research, my final choice was a Banana Republic staple lightweight suit: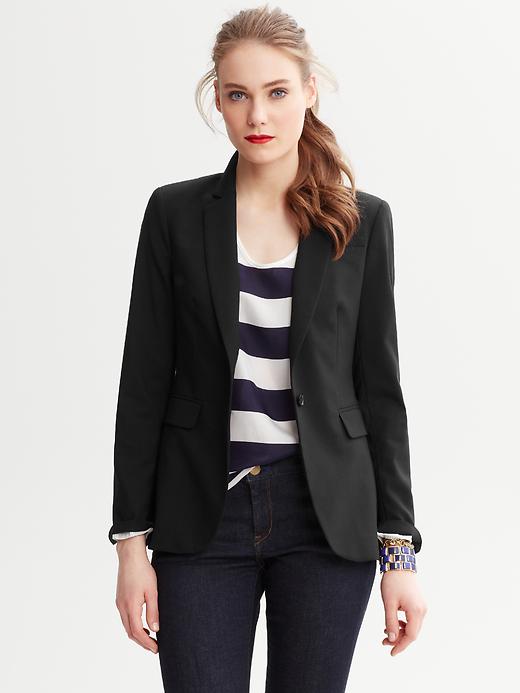 I chose the Banana option over plenty of other choices for a few reasons:
1. They have tall, petite, and regular options for all different shapes. You can look at the size guides and have a better idea of what to buy for your (ab)normal shape!
2. Reviews are posted. I do a lot of online shopping via reviews. I think you really can get a good idea of the fit and quality of pieces from shoppers. Old Navy/Gap/Banana Republic also do a great job of highlights repeat shoppers who really understand the fit of their clothes.
3. I could return it easily. Ordering online makes me nervous especially with big purchases like this because if it doesn't fit it will HAVE to go back. I have always had good experiences with this shipping!
4. Advice. My dad made a great point in telling me that I'd probably never (note: not finite, but more of a suggestion/guess) work anywhere I would need a HEAVY wool blazer. Or at least not in the short-term. A lightweight wool was perfect and black was an obvious choice. Our business school suggests buying a skirt suit first and a black suit before any others, so combining this advice, I went with the lightweight, black skirt suit.
When making your purchase keep in mind what shoes you'll most likely be wearing with your new ensemble and if you'll be more comfortable in pants or a skirt. I am by no means a suit expert, but I figured as a job applicant, I'd share MY decision process!
xxKatie