I bought my first Tan Towel product at the end of the summer in a huge clearance sale from a store a few down from where I work. It was $7 and I was impulse buying because it was on sale. I'd used it a few times here and there to test it out, but I had never really tried it with a specific purpose.
That's where New Years comes into play. I was pasty and knew I didn't really want to wear tights with my dress options, so I had limited options. After having a few scary moles removed early in the summer (TMI, but one was sent for testing, and thankfully came back benign!), I swore off tanning in a bed for the rest of my life. I used to go a lot (ever seen Carolina Cup pictures of me last year? That was probably the height of my tanning...yikes!) and I don't think I'll ever be able to go back in a tanning bed. ANYWAY, my options were limited. I had tossed my bottle of Tan Towel "On the Glow" in my bag before I left for school BY ACCIDENT. I thought it was a different moisturizer I keep on a shelf in my room, but I'm sure thankful I took it!
I applied 3 "coats" of this lotion (I don't use the actual "towels" just the lotion) over two days and shaving my legs in between use 2 and 3. It's kind of a slimy lotion--but absolutely in a good way--it goes on so evenly and dries quickly. It also doesn't have a bad odor and works fast. In the span of two days I developed a GREAT color, just enough to be a-ok for NYE!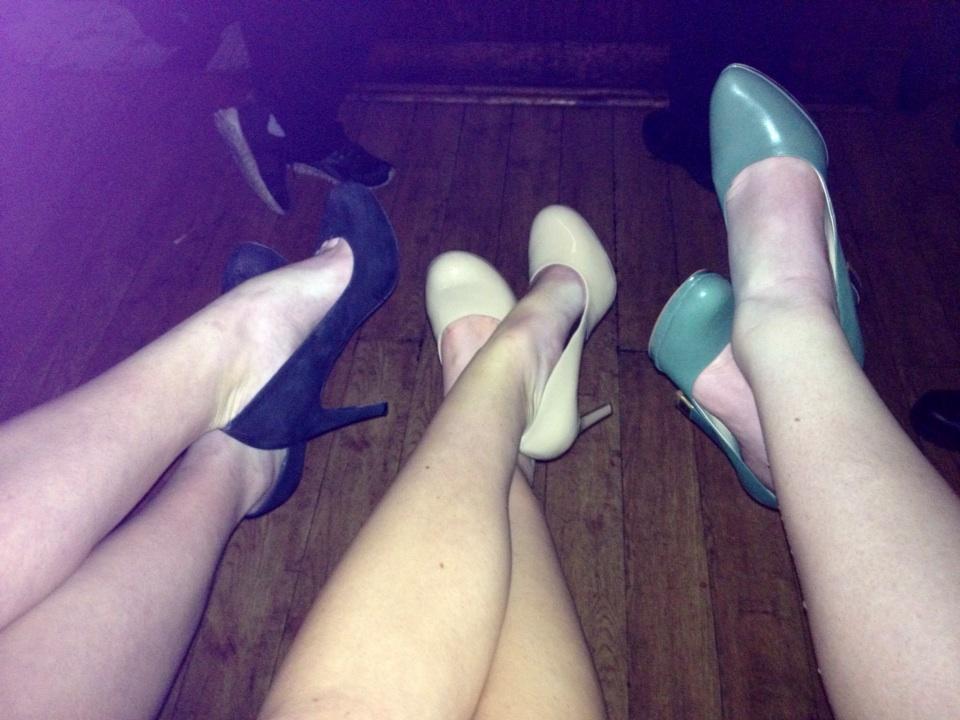 This is totally a silly picture from NYE, but I have the middle legs and you can see a little bit of the color--and my nude pumps!
Tan Towel also makes an "On the Glow" for faces, and I have that one as well, but I've never tried it! I'm always nervous to try new facial products on because with my breakouts, I can never tell how they are going to react. I'm definitely eager to try these out once I get all that under control.
Tan Towel is a bit more expensive than normal sunless/self tanners, BUT I justify it by knowing a spray tan (which can be WAY worse if you get a bad one or botched one) or tanning membership is even more expensive. An 8oz bottle runs between $11-18 depending on where you get it, but I've gotten at least 10 uses out of my bottle. Like I said, it spreads out so a lot goes a far way!
Do you use a self tanner? Which kind do you prefer?
xxKatie