I've gotten a few requests and comments about the jewelry that I wear everyday. I don't wear much jewelry, but I do wear a few things each and everyday. From the top down: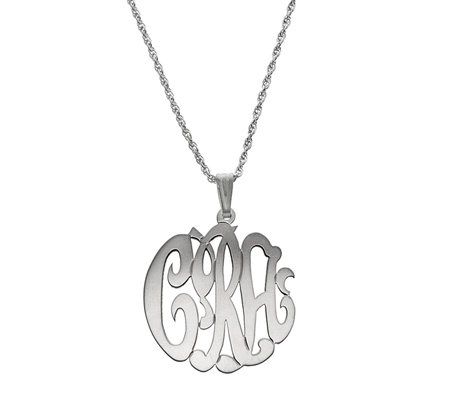 I wear this exact necklace everyday. No joke, that is
my
exact monogram
, cRa and I have the Basch Sterling Sliver Script Monogram Pendant. I wear it on a round silver snake chain that I got from a local silver jeweler. I get tons of questions on this necklace when I feature it on my
Polyvore
. A jeweler that eventually ended up closing its doors sold me mine, but a company called Basch are the ones who actually make the necklaces. Since all the work is custom, it takes a little bit to get to you, but for as much as I wear mine, it's so worth it. You can actually buy them on QVC.com if you search "Basch" in the box.
I got this ring for my High School graduation from my parents and I wear it everyday on my right hand ring finger. I was hesitant to wear it because I knew I'd be sick if something happened, but then again why have nice, pretty jewelry if you can't wear it! It's tough to see, but it has 4 pink sapphires around the sides. I like to have the 2 brightest ones facing out (and I actually get particular if someone takes my ring off that it gets put back the right way!)!
Everyday I also wear earrings unless my ears hurt from the last pair. I don't have sensitive ears at all, but sometimes junky earrings get me. I often wear a pair of pearl earrings or silver pearls. If they get switched out, then I wear fake diamond studs or a specific pair to match what I'm wearing (Elsa Peretti silver hearts, black pearls, etc.). One of my favorite pairs of earrings is actually from Claire's and they're pearls with teeny tiny cubic zirconias on top of the pearls. They're so tiny and delicate that people always think they're real. Very classy for Claire's, I know, kinda ridiculous!
Do you ever wear some things everyday? Got any great wedding/engagement rings to show off?! I'd love to see!!
xxKatie