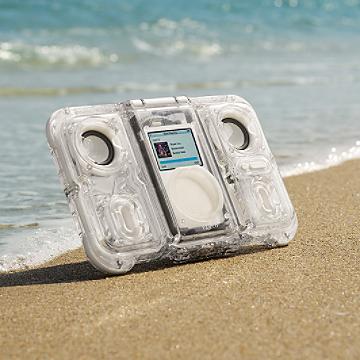 An iPod is useless if your music isn't organized neatly into playlists. Without them you could be shuffling for days (or weeks for some of my musically inclined friends...) and hoping to hear the songs your JUST downloaded or want to listen to! I currently have 20 playlists (that might sound like a lot) that all have different flavors! I'm about to make my 21st FULL of perfect beach tunes. These songs have to have a lot: fun beats, summery lyrics, a warmth-inducing feel...they have a lot to live up to! Here are my picks for summer songs:
1.
For Once in My Life
by Scotty McCreary: LOVE HIM! This song has become my recent obsession! My sister played this once when we were driving in her car and now whenever I say "Play Scotty!" she knows exactly what song I'm talking about!
2.
Love Done Gone
by Billy Currington: So summery! This was in my last big download set from iTunes!
3.
Here for a Good Time
by George Strait: I heard this in "New Country" on the radio and my first thought was "THIS would make SUCH a fun shagging song!" I am loving the 89th single released by Mr. Strait. He sure does know what he's doing!
4.
Kiss Me in the Dark
by the Randy Rogers Band: I've been jammin' out to this song recently so it's made its way onto the list!
5.
Come Back Song
by Darius Rucker: I still stand by the notion that this CD is one of the best I've ever bought. I could come up with a playlist of all Darius songs...I may or may not have one called "Darius and Taylor" (Swift) for long car rides! It's a good one...Anyway, I had to add a classic to the list!
6.
Only Wanna Be with You
by Hootie and the Blowfish: On that note, I'm going to throw some Hootie into the mix. "
I'm such a baby cause dolphins make me cry...
" #summer
7.
Good Ride Cowboy
by Garth Brooks: Now y'all had to know I was gonna include Garth in here someway. Wouldn't this make a good Tush Push song? Yeah, Colleen that really has to happen...I miss shagging!
8.
Stand by Me
by Ben King: You can have a beach playlist without a beach song or two!
9. Erase Me by Kid Cudi: My list can't all be country. That's just not fair! I absolutely LOVE this Kid Cudi song. Blastin' it level 40 in Little has happened before.
10.
Love in a College Town
by Luke Bryan: Because I've been missin'
MY COLLEGE TOWN
like crazy recently. And y'all know
I can't get enough
of this song!
11.
Coastal
by Kenny Chesney: What says the beach better than this? I'm goin' COASTAL! His "Hemingway's Whiskey" CD is great! I've enjoyed every single that I've downloaded from it!
12.
Where the Boat Leaves From
by the Zac Brown Band: They're such a beachy band! Breezy, fun, light-hearted and aren't they just the words you want to describe your vacation? Yes, please!
13.
Shark in the Water
by V.V. Brown: I've featured this a lot on here, but this is so fun for the beach and by the water...however I hope it doesn't hold true for us...I'm more about Darius Rucker's dolphin idea.
14.
Glory Days
by Bruce Springsteen: beach + summer + off from work and school = GLORY DAYS!
15.
Seven
by Dave Matthews Band: "
Red is the color of the sun with my eyes closed...
"(Megan here's your shoutout! She's been the DMB influence in my life--got hooked on this song when we used to go to ESJ and SYB my freshman year! It was on the SYB cd!!)
What are you summer songs? Any on my list?
xxKatie