"Bows on Bows" was a post that my friends enjoyed talking about for awhile and even ended up as chatter at a bar one night, so I figured I'd bring it back since it was popular!
Bows seem to be a big trend this year--color me a fan! I love bows whether they're an addition to a piece, an extra decoration or on the tips of your shoes!
Starting off with a BANG, these
Ferragamo flats
are the flats that made bows on shoes a staple. It doesn't get more classic than Ferragamo patent flats and these will ALWAYS be in style. Treat them right, and they will certainly treat you back! How could you not start with these shoes when you're talking about bows on toes?!?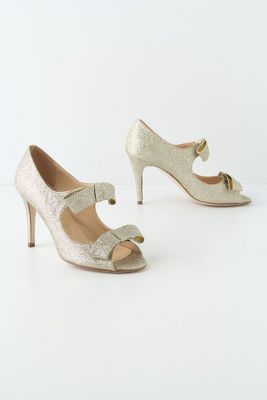 I am SMITTEN with these bow pumps by
Butter
! I love the shimmer yet neutral characteristics about them and they are just girly enough! These would be great for Christmas, a wedding and anything and everything in between!
The reigning Queen of Flats,
Tory Burch
herself has even come out with a bow laden shoe great for fall and winter! This caramel color will look great with any bottoms of your choosing for fall and winter. I get so much use out of my TB Reva's that I'm sure I'd be able to find a time for these to add into the rotation!
What's not to love about these Kate Spade
pumps
? The mesh is a new look, but these would be TDF for the spring and if I was bold enough and confident enough, I would L-O-V-E to wear these to Carolina Cup or the Kentucky Derby!
These
flats
are so darling and have LBP written all over them! I'd pair these with SO much of my closet, not to mention basically ALL of the newest Lilly Pulitzer Resort 2012 sportswear. I'm obsessed with the multi-layer bows on these toes!
I have had a few pairs of Enzo Angiolini pumps in the past that I have LOVED. These are great work pumps that would go with so much since it has both black patent and neutral tones on it!
Do you like the bows on toes trend? I do! I do! I do!
xxKatie